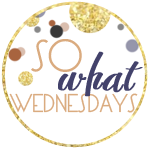 This week I'm saying
SO WHAT!
if...
I got my Christmas cards today. And I hate them. I don't know why... I'm just not as excited as I usually am. I don't have the interest to pay for new ones and go through it all over again. These are going out. Truthfully, it's probably more me than them. Yep, I just used the "it's not you it's me" line against PAPER!
I'm still sitting in my pajamas at 1:30 in the afternoon. It happens...
I can't afford to go crazy shoe shopping like I usually do & should be making wise choices (brown pair, black pair, shut it down.). Kid needs (another) pair of hot pink boots... I'm sure she will get my money's worth out of them.
I like to go to bed around 8pm even though I'm not going to work the next morning. I'm 50 at heart.
It's freezing outside. I hate jackets.
I want to go straight from Halloween to 2014. I'm afraid our holidays are going to have so much pressure on them that we won't even enjoy them.
Laundry is piling up. We can just stay in PJ's, who needs "real" clothes!
I tried really hard to come up with blog worthy wish lists for Christmas. Truth is, I want normal things. I'm easy... and boring.